Restore Versus Replace
11/20/2017 (Permalink)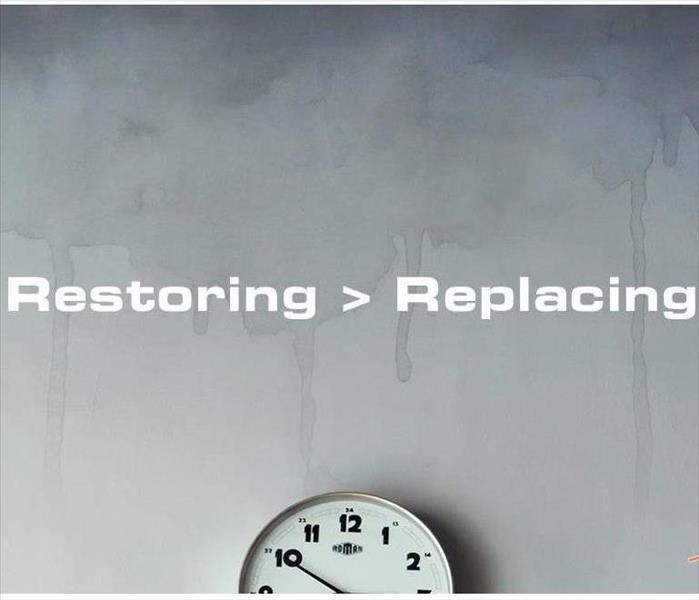 Knowing that you can trust our team to treat your property right as we get it back to preloss condition = priceless.
When disaster strikes, whether it's fire, water, wind, or smoke, there's a long list of things to stay level-headed about when it comes to home back to normal. The first thoughts are often related to the safety of your family and pets, but concerns about the damage to your house will certainly follow quickly after. In many cases though, knowing how to get your home back to its preloss condition will come down to a single question: Will I need to restore or replace my belongings? But what is the difference?
Restore by definition; "to bring back to a previous condition or state"
Replace by definition; "to supply or substitute an equivalent for"
Replacing isn't always cost efficient or necessary.
We see that in a few cases after fire or water disasters, homeowners use these situations as justification to do some much-wanted renovation to their home. In retrospect, knocking everything out and replacing it isn't always the best solution to the situation. Being knowledgeable about your insurance policy is a good starting point. When it comes down to it, if your kitchen has significant water damage, an entire kitchen remodel most likely will max out your policy. It might seem like a good idea at the time, but you never know what the future holds, and it could hold a second loss. Hopefully that doesn't happen, but never say never.
Examples where the decision to restore an item, rather than replace, would be when a family heirloom is involved, such as an old Grandfather clock, or a handmade quilt. Sometimes, just part of an item or object is damaged. In those cases, it may not be necessary to say goodbye to your favorite item. Many times parts of the object can be restored to their natural, preloss beauty with effort, dedication, and the necessary procedures, products, and or tools.
Home restoration is the fastest option possible
The most obvious incentive to choose restoration over replacement is the speed at which the restoration will be complete, and your home will be back to normal, versus the time it takes for complete reconstruction. Nobody wants to live in a construction site; that's why a quick restoration job is often the preferable choice for homeowners who are eager to get their homes back. Whether you want to seal a set of vinyl windows or remove some soot and some damage from your walls, if it is done properly, restoring these pieces of your home will save you both time and money.
The most important reason to restore vs. replace is that you get all of your prized possessions back. Sure it would be nice to get all new "stuff", but trying to find that favorite shirt or favorite accessory that isn't made anymore can be a bit of a headache. Also, if you have ever talked to someone who lost everything in a fire, they spend the next year or more shopping. Even for those who love to shop, the experience can be a bit overwhelming.
Next is the cost to restore vs. replace. The cost to restore damaged contents is a fraction of the cost to replace. You want to get all of your belongings back, and the insurance company is obligated to pay for restoration or replacement. What most people don't realize is that the insurance company will not give you an open check book. The insurance company reserves the right to restore damaged contents instead of replace them. Running up the cost of replacing contents can have a detrimental effect on your rates and coverage for many years to come. Once belongings are deemed non-salvageable, they are disposed of. If you want to keep any non-salvageable items, you must discuss that with your insurance adjuster immediately.
If you or someone you know has a fire or water damage with contents involved, don't be influenced by all of the suggestions from your friends and neighbors. Talk to a Fire & Water Restoration professional who will work with you and for you. We will help direct you through the entire process.
Our team at SERVPRO of Kitsap County has helped countless customers with a wide variety of loss situations; there seems to always be a new scenario popping up here or there. With our training, experience, and skills, we can appropriately help you or someone you know who is going through a loss or disaster. We're here for you no matter what – any time, any day to make your loss "Like it never even happened."