What Type of Water Damage in Bremerton Does SERVPRO Handle?
6/21/2020 (Permalink)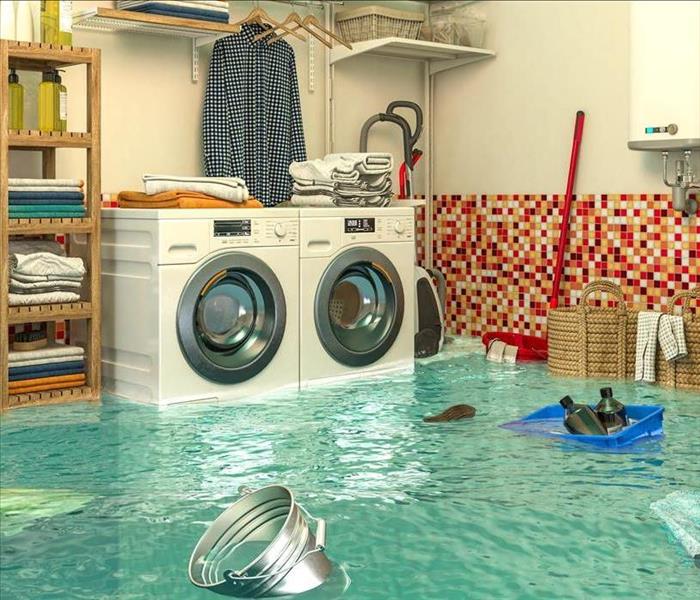 Water damage can quickly overtake your laundry room. Contact the certified technicians at SERVPRO to dry out your home.
No Water Catastrophe to Your Home in Bremerton is too Big for Our Experts
Many types of water damage can occur in residential homes in Bremerton. The technique and equipment used will vary depending on the source of the water loss and how bad it is. Rest assured, we have the right equipment to get the job done and leave it "Like it never even happened."
What are the leading causes of water loss in a home?
When water loss occurs it can leave problems that may seem small but can lead to big problems later. Our Institute of Inspection, Cleaning and Restoration Certification (IICRC) technicians work hard to clean and restore all types of flooding. Typical water removal scenarios in Bremerton include:
Water Fixture Overflow – this can be from a faucet, pipe, or other types of fixtures that do not release massive amounts of water. The water buildup tends to be minimal.
Single Room Flooding – The depth of the water in a single room can include several variables that will determine how the water is extracted, such as the room size and content
Home Flooding – This would be in the wake of a catastrophe that causes submersion of the entire home or large sections.
Basement Flooding – Mild water loss may occur from seepage or broken pipes. More severe flooding can occur from things like floodwater.
Bring on The Pumps!
SERVPRO handles each of those situations with different water removal techniques. All of those call for immediate mitigation to avoid permanent damage. Here are some water extraction methods:
Truck Mounted Extractors – used for basement and extensive home flooding. We have trucks that can remove approximately 36,000 gallons of water a day. If needed, we can call in multiple trucks.
Portable Extractor or Pump – Used in some basement flooding and often in single room flooding. These are also used in water fixture overflows.
The pumps are just the beginning of water removal to restore your residence. Contact SERVPRO of Kitsap County at (360) 373-1290 for quality water removal service that is Faster To Any Size Disaster.
Click here to learn more about Bremerton.